Alto Cumulus Castellatus Lampshade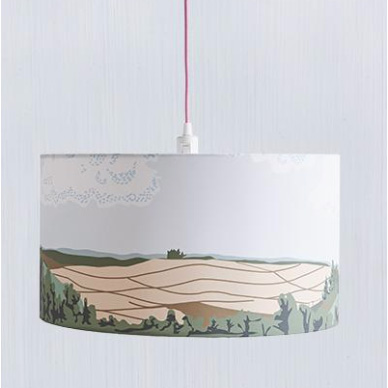 Alto Cumulus Castellatus Lampshade
Made in the studio of British Designer Snowden Flood
Details refer to buying as a personal shopper - we are happy to provide a separate quote for commercial use.
ARTIST OWN PRODUCT
Bring some blue skies into your room with this handmade lampshade featuring a sunny rural scene. The colours are quite soft so will easily fit into most interiors whether contemporary or traditional.
The design is printed onto a fine cotton and lined with fire retardant material. Suitable for a 40w bulb.
Snowden often has stock but if not she makes the lampshade to order which can take up to 3 weeks, so...let us know if you need this in a hurry.
Snowden can also make this in other sizes and with a table lamp fitting if required.
Dimensions:
Small 30 x 20cm = £65
Medium 40 x 25cm = £75
Large 45 x 25cm = £85
In your order - just let us know whether you want a fitting for a table lamp or a pendant!
Entirely designed and made in UK
© Snowden Flood 2018 All rights reserved
FREE DELIVERY WITHIN UK